From March 2021 our COVID secure planetarium can visit schools. Dinosaur Dome or indoor or outdoor planetarium or rocket experiments in playground. We come for extra clubs or class sessions allowed under DOfE guidelines for continuing attainment and supporting curricular activities.#stem call 01202 304734
Call Neil on planetarium telephone line to discuss any requirements - 01202 304734
-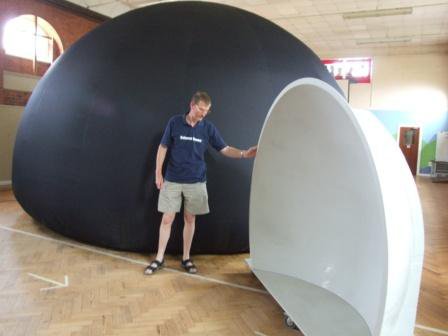 School Programme
Events include:

1. Solar System Tour and Beyond - KS2/3
2. Space Exploration (Apollo Moon Landings) - KS1/2
3. Dinosaur Show - KS1/2/3
4. Rocks, Soils and Fossils - KS2/3
5. Earth and Beyond - KS1/2
6. Light/Dark and Space - KS1
7. Light and Sound - KS1/2
8. Ancient Egypt (or Greece) and the Stars - KS1/2
9. Under the Sea - KS1/2
10. Pirates and the Sea - KS1
11. Fractal Dome (Maths and Natural Symmetry) - KS2/3
12. Down to Earth (Fossils and Earth's History) - KS1/2
13. Nano Cam Show (Biodiversity at Micro-level) - KS2/3


The shows consist of using the dome, full dome 360 degree films and outside interaction, if time permits.

Programmes can be partial constructed by the school in advance of visit to reflect current classroom subjects.
A full day visit costing in the range of £530 (excluding VAT) with a typical day including up to five class shows. Half day rate for three shows at £430.
We may charge extra for a sixth show during the day. If your school is located near one of our dome bases (see below), then we may be able to come for a half day. Please apply for half day rates.
Dorset and Hampshire -- the charge is around £475 per day (excluding VAT) with lower special rates for Bournemouth and Poole schools. Please apply for special rates.
Please be aware that we charge a travel and hotel supplement, if we are required to travel a distance from a base.
Not all topic subjects available at each location- please check.
Domes are based at the following locations;
Bournemouth, Hastings Sussex, Poole, Christchurch, Boscombe, London, Tyneside, Warrington, Leeds, and Newark in Lincoln.

Click here for the schools page Schools programme
VAT number 926 3431 30.

Click our link to special topic schools website below
-----------------------------------------------------------------------------------------------------
2021 - COVID SECURE arrangements for schools
Our giant planetarium domes come with fully circulation of air and we are going to fit extra air-conditioning to maintain replacement of air flow at a rapid rate and cool temperature. Full COVID Risk Assessment documentation available for the school to inspect, including the use of PPE screens between the children and the presenter.
We can complete a planetarium at your school in an open dome using a wide screen (picture above) or your bubble Year Group in an inflatable air circulated planetarium dome. Full COVID Risk Assessment documentation available for the school to inspect.