Science Dome in the UK
Science Dome is designed to explore science, geology and geography in an interactive way. The Science Dome visits schools and clubs, providing an additional science resource and presenting a different learning experience to children.

We provide a fully digital mobile planetarium and natural history shows (rocks/ fossils and dinosaurs) to schools, colleges, youth clubs, scouts groups and playgroups. The service is provided in a blacked-out purpose built mobile domes which can be sited indoors using a school hall. Our domes are the most advanced digital domes in the country capable of showing 360 degree pictures and feature films.

We operate five mobile digital domes from Bournemouth, London, Walsall and Glastonbury in Somerset, covering the whole of the South of England and the Midlands. We also tour the rest of the UK and EIRE on request.

Our domes can cater for a large event up to 60 people with special multimedia equipment and lens to provide a spectacular show for entertainment and education. All our mobile domes are fully digital capable of showing full dome films and an interactive solar system across the dome.


A full day visit costing in the range of £395 (excluding VAT) with a typical day including up to five class shows.
London area and West Midlands the charge is around £450 per day (excluding VAT)+ Fuel Supplement of £40 below.
Please be aware that we charge a travel and hotel supplement north of the M4.
From 1st April 2013 we are charging a Fuel Supplement of £40 plus VAT on any new bookings of the Science Dome.

Click the link below to book
www.sciencediscoverydome.co.uk
OR Phone no: 01202 304734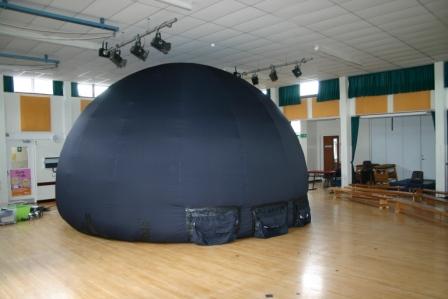 Award Winning 'Fractal' Programme comes to the Science Dome
Fractals is the spectacular, award-winning fulldome planetarium show that takes viewers on a tour of the fractals in nature and zooms through infinitely complex mathematical fractals. Featuring original music, the show is both educational and highly entertaining, and suitable for audiences 3 and up.
In addition we have two special 'Outside Domes' for large events and fairs, now available. Our aim with the outside domes, is to make astronomy accessible to the public.

Click the link below for the special school programme website